Bard Owl is Annie Landenberger, the girl who once memorized and performed from an entire double album of Mitch Miller favorites for her parents' dinner guests, and Breeze Verdant, the boy who lay in bed belting out Elvis, Little Richard and military tunes at the top of his lungs. Mitch and the military have gone their separate ways, but Annie and Breeze have merged to create a rich eclectic play list. Sweet harmonies, driving rhythms, old tunes and new—and originals.
Breeze's lush electric guitar sound, honed over 50 years, is matched by his stomp box rhythm and fully-ranged vocals. Annie has picked up percussion to add to the above and her own voice which has been singing for decades in a range of styles—folk, classical, jazz, blues—and musical theatre. Together their sound, enhanced by deep sounding subwoofers, covers a wide range of the spectrum—very full sounding.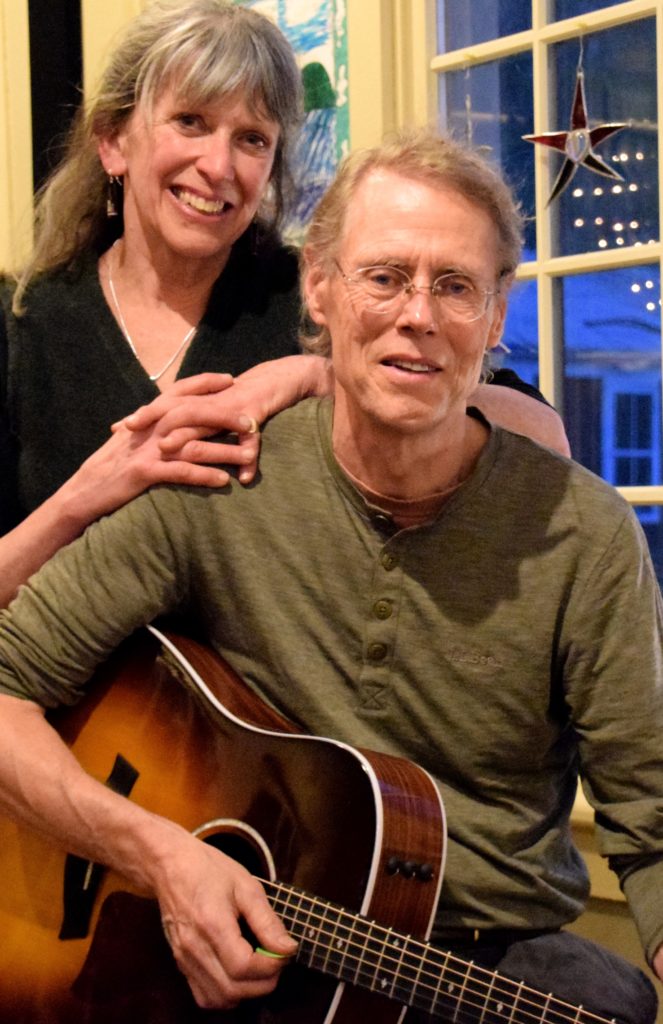 Thanks for a wonderful evening of music!
Bard Owl: Superb!
You never have a clue what style of music [they] will play next
​
You're our favorite band!
Breeze with Bruce Cockburn, holding a Carvin guitar inlaid by Breeze.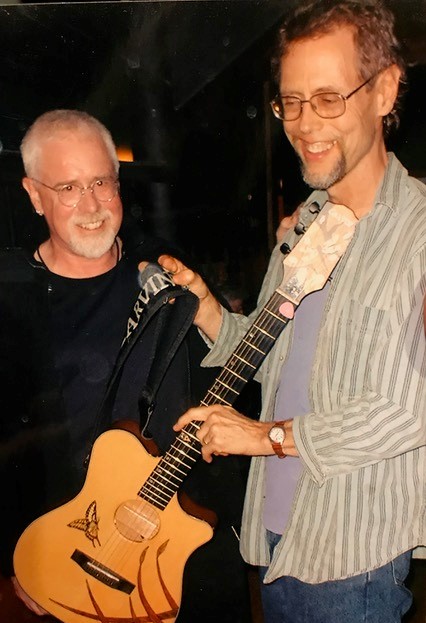 Breeze has been performing in various formats and venues with myriad fellow musicians for 35 years—30-40 gigs a year in the 15 years pre-pandemic; Annie's performed in some 50 productions and directed 90. Together they know well how to size up an event's needs; they relate comfortably to an audience making it a rich and wonderful experience for all. We often perform with other musicians. Harmonica player Earl Cantos, for instance, joins us on a number of tunes at various gigs and over in New York State we appear with Master Fiddler Stephen Iachetta as Shelving Rock.